Praha on kaunis igal aastaajal. Kõige meeldivam aeg on aga märtsist septembrini. Keskmine talvine temperatuur on 0 °C ümber, suvel 25 °C ümber.
The location could not be found.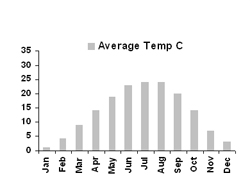 Praha asub kontinentaalses keskvööndis kuumade suvede ning külmade talvedega. Siinne ilm on mõjutatud ilmastikuga nii idast (Siberist), kui ka läänest (Atlandist). Kõige parem Praha külastusaeg on nähtavasti märtsi lõpust kuni septembrini, kui ilm pole liialt külm ning linn pole ülerahvastatud. Suve jooksul võib temperatuur tõusta ka 35 °C ja talvel langeda kuni -15 °C, mõnikord isegi kuni -25 °C, kuid need on pigem ekstreemsed ning harvemad temperatuurikõikumised. Keskmine mai- ja septembrikuu temperatuur on 22 °C ja kõige madalam temperatuur on 12 °C, keskmine päikesepaiste aeg on seitse tundi Kõige rohkem päikesepaiste aega on kevadel ja suvel , kõige rohkem sajab maist kuni augustini. Lund on Prahas haruharva. Sademeid on aasta jooksul enamvähem võrdselt, mis kergelt suureneb suvel ja sügisel ning millele lisanduvad aegajalt suvised lühiajalised äikesed.