Praha on kaunis igal aastaajal. Kõige meeldivam aeg on aga märtsist septembrini. Keskmine talvine temperatuur on 0 °C ümber, suvel 25 °C ümber.
Today 04/20 0%

Selge

Sunny. Very warm. High 26C. Winds SSE at 10 to 15 km/h.

Tomorrow 04/21 20%

Selge

Sunshine and some clouds. High 24C. Winds NNW at 10 to 15 km/h.

Sunday 04/22 50%

Äikese võimalus

Partial cloudiness early, with scattered showers and thunderstorms in the afternoon. High 24C. Winds light and variable. Chance of rain 50%.

Monday 04/23 60%

Äikese võimalus

Mixed clouds and sun with scattered thunderstorms. High 19C. Winds WSW at 25 to 40 km/h. Chance of rain 60%.

Tuesday 04/24 50%

Vihma võimalus

Considerable cloudiness with occasional rain showers. High near 15C. Winds WSW at 25 to 40 km/h. Chance of rain 50%.

Wednesday 04/25 50%

Vihma võimalus

Mostly cloudy in the morning then periods of showers later in the day. High 17C. Winds W at 15 to 30 km/h. Chance of rain 50%.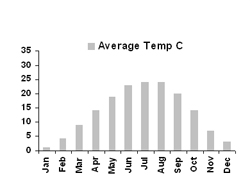 Praha asub kontinentaalses keskvööndis kuumade suvede ning külmade talvedega. Siinne ilm on mõjutatud ilmastikuga nii idast (Siberist), kui ka läänest (Atlandist). Kõige parem Praha külastusaeg on nähtavasti märtsi lõpust kuni septembrini, kui ilm pole liialt külm ning linn pole ülerahvastatud. Suve jooksul võib temperatuur tõusta ka 35 °C ja talvel langeda kuni -15 °C, mõnikord isegi kuni -25 °C, kuid need on pigem ekstreemsed ning harvemad temperatuurikõikumised. Keskmine mai- ja septembrikuu temperatuur on 22 °C ja kõige madalam temperatuur on 12 °C, keskmine päikesepaiste aeg on seitse tundi Kõige rohkem päikesepaiste aega on kevadel ja suvel , kõige rohkem sajab maist kuni augustini. Lund on Prahas haruharva. Sademeid on aasta jooksul enamvähem võrdselt, mis kergelt suureneb suvel ja sügisel ning millele lisanduvad aegajalt suvised lühiajalised äikesed.