Praha on kaunis igal aastaajal. Kõige meeldivam aeg on aga märtsist septembrini. Keskmine talvine temperatuur on 0 °C ümber, suvel 25 °C ümber.
Issued:

14:50 GMT 22. Oktoober 2018

Expires:
Esmaspäev 10/22 50%

Vihma võimalus

Light rain early. Low 3C.

Tomorrow 10/23 40%

Vihma võimalus

Cloudy early then becoming windy with light rain developing later in the day. High near 10C. Winds WSW at 30 to 50 km/h. Chance of rain 40%.

Wednesday 10/24 60%

Vihma võimalus

Windy. Rain showers early with clearing late. High 12C. Winds NW at 30 to 50 km/h. Chance of rain 60%.

Thursday 10/25 20%

Lauspilvisus

Overcast. High 12C. Winds W at 25 to 40 km/h.

Friday 10/26 10%

Osaliselt pilves

Cloudy skies early, followed by partial clearing. High 13C. Winds SW at 15 to 25 km/h.

Saturday 10/27 80%

Vihm

Rain showers in the morning will evolve into a more steady rain in the afternoon. High around 10C. Winds WNW at 10 to 15 km/h. Chance of rain 80%. Rainfall near 6mm.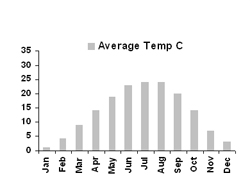 Praha asub kontinentaalses keskvööndis kuumade suvede ning külmade talvedega. Siinne ilm on mõjutatud ilmastikuga nii idast (Siberist), kui ka läänest (Atlandist). Kõige parem Praha külastusaeg on nähtavasti märtsi lõpust kuni septembrini, kui ilm pole liialt külm ning linn pole ülerahvastatud. Suve jooksul võib temperatuur tõusta ka 35 °C ja talvel langeda kuni -15 °C, mõnikord isegi kuni -25 °C, kuid need on pigem ekstreemsed ning harvemad temperatuurikõikumised. Keskmine mai- ja septembrikuu temperatuur on 22 °C ja kõige madalam temperatuur on 12 °C, keskmine päikesepaiste aeg on seitse tundi Kõige rohkem päikesepaiste aega on kevadel ja suvel , kõige rohkem sajab maist kuni augustini. Lund on Prahas haruharva. Sademeid on aasta jooksul enamvähem võrdselt, mis kergelt suureneb suvel ja sügisel ning millele lisanduvad aegajalt suvised lühiajalised äikesed.