Praha nuostabi visais metų laikais. Maloniausias laikas apsilankymui yra nuo kovo iki rugsėjo mėnesio. Vidutinė temperatūra žiemą svyruoja apie 0 °C, o vasarą apie 25 °C.
Issued:

01:50 PM GMT on spalio 22, 2018

Expires:
Pirmadienis 10/22 50%

Galimas lietus

Light rain early. Low 3C.

Tomorrow 10/23 40%

Galimas lietus

Cloudy early then becoming windy with light rain developing later in the day. High near 10C. Winds WSW at 30 to 50 km/h. Chance of rain 40%.

Wednesday 10/24 60%

Galimas lietus

Windy. Rain showers early with clearing late. High 12C. Winds NW at 30 to 50 km/h. Chance of rain 60%.

Thursday 10/25 20%

Debesuotumas

Overcast. High 12C. Winds W at 25 to 40 km/h.

Friday 10/26 10%

Debesuota su pragiedruliais

Cloudy skies early, followed by partial clearing. High 13C. Winds SW at 15 to 25 km/h.

Saturday 10/27 80%

Lietus

Rain showers in the morning will evolve into a more steady rain in the afternoon. High around 10C. Winds WNW at 10 to 15 km/h. Chance of rain 80%. Rainfall near 6mm.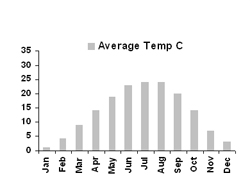 Praha randasi kontinentinėje klimato juostoje kur vasaros būna karštos, o žiemos šaltos. Orus čia įtakoja kaip oro masės ateinančios iš rytų (Sibiro) taip ir iš vakarų (Atlanto). Geriausias laikotarpis apsilankymui Prahoje tikriausiai yra nuo kovo pabaigos iki rugsėjo pabaigos, kai orai nėra labai šalti o miestas perpildytas. Vasarą temperatūra kai kada gali pakilti net iki +35 °C o žiemą nukristi ir iki -15 °C, bet kartais pakilti iki + 25 °C , tačiau tai greičiau išimtys. Vidutinė temperatūra nuo gegužio iki rugsėjo laikosi apie 22 °C, kai žemiausia temperatūra būna 12 °C , vidutiniškai per dieną saulė šviečia septynias valandas. Daugiausiai vidutiniškai per dieną saulė šviečia pavasario ir vasaros mėnesiais, laikotarpis nuo gegužio iki rugpjūčio yra lietingiausias. Sniegas Prahoje būna retai. Kritulių kiekis per metus pasiskirstęs tolygiai, kritulių šiek tiek daugiau vasarą ir rudenį su labai retais pasitaikančiomis vasaros audromis.