Praha nuostabi visais metų laikais. Maloniausias laikas apsilankymui yra nuo kovo iki rugsėjo mėnesio. Vidutinė temperatūra žiemą svyruoja apie 0 °C, o vasarą apie 25 °C.
The location could not be found.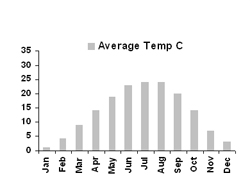 Praha randasi kontinentinėje klimato juostoje kur vasaros būna karštos, o žiemos šaltos. Orus čia įtakoja kaip oro masės ateinančios iš rytų (Sibiro) taip ir iš vakarų (Atlanto). Geriausias laikotarpis apsilankymui Prahoje tikriausiai yra nuo kovo pabaigos iki rugsėjo pabaigos, kai orai nėra labai šalti o miestas perpildytas. Vasarą temperatūra kai kada gali pakilti net iki +35 °C o žiemą nukristi ir iki -15 °C, bet kartais pakilti iki + 25 °C , tačiau tai greičiau išimtys. Vidutinė temperatūra nuo gegužio iki rugsėjo laikosi apie 22 °C, kai žemiausia temperatūra būna 12 °C , vidutiniškai per dieną saulė šviečia septynias valandas. Daugiausiai vidutiniškai per dieną saulė šviečia pavasario ir vasaros mėnesiais, laikotarpis nuo gegužio iki rugpjūčio yra lietingiausias. Sniegas Prahoje būna retai. Kritulių kiekis per metus pasiskirstęs tolygiai, kritulių šiek tiek daugiau vasarą ir rudenį su labai retais pasitaikančiomis vasaros audromis.